If any illegal immigrant is found working in UK without any valid document, then he or she will be sent to prison for a period of six months. Government will make crackdown on late night take-away and see if they have hired foreigners without any valid document.
For few days, Government was facing lots of criticism for being unable to handle the Calais crisis. The new legislation was announced days before the new immigration figures are to be released.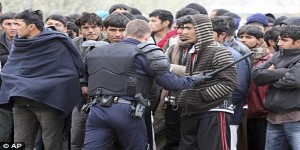 Speaking to the media, James Brokenshire , the Immigration Minister said that: "Anyone who thinks the UK is a soft touch should be in no doubt – if you are here illegally, we will take action to stop you from working, renting a flat, opening a bank account or driving a car.
"As a one nation government we will continue to crack down on abuse and build an immigration system that works in the best interests of the British people and those who play by the rules.
"Illegal workers will face the prospect of a prison term and rogue employers could have their businesses closed, have their licenses removed, or face prosecution if they continue to flout the law."
Under the new law, if any office is found to have hired any foreign worker illegally, then all their licenses to operate will be ceased. So, if are working in UK without any valid documents, both you and your employer will land up in court.
Actually unemployment in Europe was on the rise and many foreigners were coming to UK and taking up the job of locals. This was raising anger among the local population and the Government had to intervene at some stage.