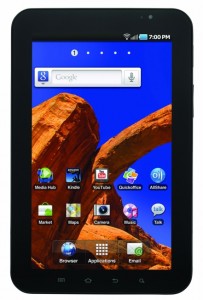 After the release of Motorola Xoom Wi-Fi only version, now its turn for Samsung Galaxy Tab Wi-Fi to hit the stores.  The much anticipated device is now available for pre-order and the price set to grab this tablet is only $350. Though we expected the Samsung Galaxy Tab Wi-Fi to be launched several months ago but due to many reasons it has been delayed so far. The tablet is a 7-inch wide Android 2.2 Froyo operated device and it is quite similar to the original Samsung Galaxy Tab sans, though the earlier version comes with a less amount of price and 3G-less antenna.
Experts say the Wi-Fi only Samsung Galaxy Tab which has been priced at $350 will be able to grab the buyers' attention, since its probable rival Motorola Xoom is costing nearly $539, which much higher than this device. But at the same time people are saying that the tablet has arrived a little bit too delayed. It won't be too difficult to spend an additional $50 to opt for the original iPad WiFi 16GB version, or to wait only few days for the launch of ASUS Eee Transformer which will come with an expected price tag of $399 offering Android 3.0 Honeycomb and dual-core processors.
The Android 2.2 tablet is now available for pre-order from Frys.com. But there is no word till now regarding the arrival of this tablet PC at US stores.