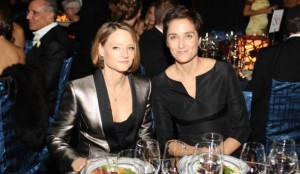 Representatives of US actress Jodie Foster confirmed that the ace actress has married her girlfriend Alexandra Hedison over the weekend. Alexandra is a photographer and actress by profession.
Ms Foster, the Oscar winning actress declared herself to be a gay, publicly in her speech at last year's Golden Globe Awards.
Bizarre, but truly though the union happened after there had been a lot of twist and turns in both the lives. Foster separated her former partner Cydney Bernard with whom she had two sons. The relationship lasted 20 long years after which they finally parted in 2008.
Reports say that Hedison too, was interested in someone else earlier on. She was dating a US comedian and chat-show host Ellen DeGeneres.
More details about the marriage is unavailable, but California-where Ms Foster hails from, is among the 17 states of United America where gay marriage is legal.
Foster gave a new dimension to her life at the age of 51 and her career flagged off, when she was only three. She has acted in more than 40 movies and her best performance was in a 1988 film "The Accused", where she portrayed the role of a rape victim and was awarded the best actress at the Oscar.