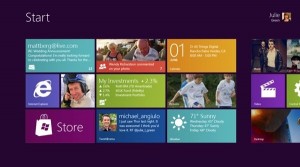 Microsoft came up with the preview of the much talked-about operating system Windows 8 last Tuesday night. You can download this pre-released version and start using it if you are ready to run it sans any support from the company. But the response was huge and perhaps not surprisingly.
As Microsoft CEO Steve Ballmer claimed there were as many as 500,000 downloads within half a day of the launch and the Twitter went abuzz with the opinions of the users – good and not so good.
The hype around the 'touch' of the 'touchWindow' of Window 8 OS was immediately put to test by the users. While it can surely work with a mouse and keyboard, its main attraction is the compatibility with the touch capable laptops and desktops apart from the tablets. So are the full-screen apps, touch-friendly tiles and gesture controls. Users also get to work with the Metro interface that first appeared in the Window Phone 7. And all this features with an OS that needs less memory space than the earlier versions! During a demo by the company it ran well in a machine with lesser RAM of 100 MB than Window 7.
In a major shift from history, Microsoft has designed the OS to run not only on x86 'Wintel' but also on the ARM chip architecture based devices. But so far, Microsoft is yet to release the later version officially.
So, will the aura around Window 8 that Microsoft built up so successfully live up to its expectation? Or it would just go the Vista way?
We will have to wait and see.