In its latest efforts to prohibit online gaming, FBI arrested the founders of three biggest online poker companies – PokerStars, Full Tilt Poker, and Absolute Poker. Executives from these companies were indicted of breaking the law, processing payments illegally, and bribing banks into opening unlawful accounts. FBI wants to send the executives to jail and confiscate $3 million as part of the penalties.
But the real question is whether the online poker sites sit idle and see their multi-billion dollar business going into the drains. This poker news showed an immediate impact on the booming gaming industry. Most of these poker sites displayed error warnings or message showing that their domain names have been seized by the FBI. The online gaming industry has been growing at an exponential rate with tens of millions of Americans hooked on to it. The online poker market currently is about $30 million.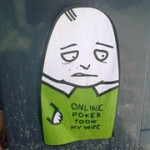 According to a law passed in the year 2006, online gaming is prohibited and making payments using domestic banks is unlawful. So online gaming companies worked around the law and started using foreign companies. They made payments to illegal accounts camouflaging them as payments for merchandise like jewelry, flowers, golf balls, etc. Also these poker companies bribed some banks by investing millions of dollars for processing their transactions. Middle men were also recruited by these companies to process e-checks using fake company names.
The federal bureau is also trying to issue arrest warrants against executives of other poker companies and have them arrested when they arrive in the US.
While this poker news develops, people who would also be affected are poker fans and those who have money left in their online poker accounts.