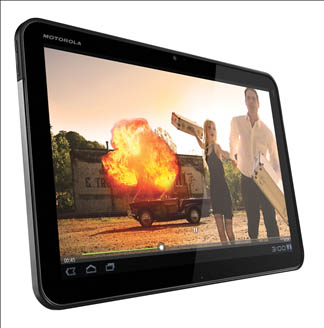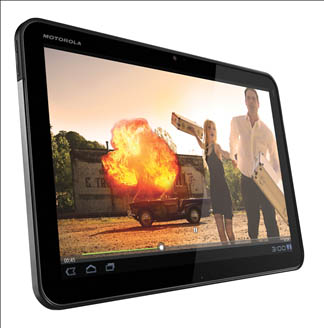 Motorola Mobility finally launches the Wi-Fi version of the Xoom tablet this weekend. The high end tablet PC is available at $599. The gadget excludes the necessity to incorporate 3G/4G to it, thus making it more cheaper option to the consumers.
Consumers can avail the latest Motorola Xoom tablet from famous brick 'n' mortar stores like Best Buy and Staples, as well as from online e-tailers  like Amazon.Com.
Unlike its pricier 3G counterpart, the Xoom Wi-Fi version doesn't need a data contract.
The powerful tablet comprises of 10.1-inch display, along with 1280×800 resolution, plus a Nvidia Tegra 2 1GHz dual-core processor for higher performance. The device is supported by  1GB DDR2 RAM, and you can store plenty of important documents as well as media files in its 32GB onboard memory (expendable via SD). Wi-Fi Xoom has incorporated a 5MP dual-LED flash standard camera together with an additional 2MP front-side camera to facilitate video conferencing.
Another rumor is buzzing around regarding the Wi-Fi only Xoom that Sam's Club will probably offer at a huge discounted price of $539, but it is not confirmed yet.
Motorola Wi-Fi Xoom Features:
Android 3.0 (Honeycomb)

10.1" 1280×800 resolution

1GHz dual-core processor

Up to 10 hours video playback

HD capture/playback/streaming, H.263, H.264, MPEG4

5 MP rear-facing camera with dual LED flash/2MP front-facing webcam

32GB on board user memory, microSD card support after future software update, 1GB DDR2 RAM