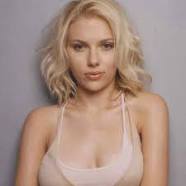 Scarlett Johansson's happy news is expected to come with a bit of complications and may disappoint certain section of "Avengers" fans. The ace actor is expecting a baby with her fiancé Romain Dauriac and thus a bad news for her fans as she may not perfectly fit the bill of being casted in "Avengers" with the bump. She was seen in the film with tight black suit on and thus there remains a big question mark on her appearance in "Avengers 2".
The actor is currently promoting her film "Captain America: The Winter Soldier", where she plays the same character Natasha Romanov as in "Avengers". Speculations buzz that she will begin shooting for the sequel of "Avenger", "Age of Ultron" in April.
Though there is no confirmation yet, it is reported that Johansson is already five months along with the baby in her womb. An insider however commented that her scenes will be fast tracked in the movie. Back in September, the actor had announced their wedding plans but did not mention any date for the nuptials. If speculations remain true and she does not feature in the film, it goes beyond say that the success of "Avengers" will face tough challenge in "Avengers 2".