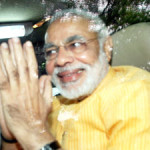 The chief of the Election campaign committee of BJP and the Gujarat chief minister Modi invoked Vajpayee, the former Prime Minister saying that we have to start off from where Vajpayee had left off in order healing the wounds of Kashmir.
He also said that he was not sure that which of the two chiefs (Sonia Gandhi or Manmohan Singh) was genuine. He won over the hearts of the Kashmiri youth by saying that they could rub off with the other youngsters of the country, if given an opportunity and he also highlighted their importance in the progress of our nation.
He also mourned on the fact that they were not given the opportunity that they deserved by the government which was congress-led UPA and he also mentioned that issues related to differences about Ladakhand Jammu and Kashmir and Kashmiri pandits would be solved. He added that there was indeed a need to bring about unity, peace and harmony instead of using guns, pistol and bomb.