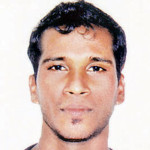 The 29 year old Goan player Soccer Velho passed away after his sudden cardiac arrest on Saturday evening at Goa. He was an extremely talented midfielder who was famous for his sudden bursts of speed which were at times unstoppable.
He had complained of breathlessness and chest pain after he returned from Margoa after playing a practice football match against the U-19 team of India. Immediately he had been rushed to the Hospicio hospital, but he was dead when he arrived there.
His coaches will always remember him as the most hardworking player who never missed his practices even if he was not well. His family consisting of his wife, nine-month-old daughter, his brother and two sisters and his parents, had always been his foremost priority. He maintained an eternal ambition of returning to his base after his career in football ends and spends a lot more time for them. But that was not to happen, and life put a stop to him at the gentle age of only 29.