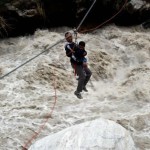 The rescue teams that have been sent to Uttarakhand for the rescue of all those who are stranded at the mountains are racing against time as the rains are expected to return by Tuesday evening.
The relief operations had been launched so that the people could be rescued who had faced the thrashing of flash floods that had been triggered by heavy rain in the state. The rescuers had been able to get about 50000 of the affected people to safe places from the districts of Rudraprayag, Chamoli and Uttarkashi. Air Marshal S B Deo had told reporters that they would try their best and rescue as many as possible from the mountains.
Railways have declared that they would provide a free travel home for all those people who have been rescued from the mountainsides. The Army, NDRF, Air Force, BRO, and ITBP have included their top officials to undertake this rescue mission with full preparation and proper ways.