Malayalam Super Star Prithviraj is going to break hearts of many of his female fans todayas he gets ready to tie the knot with BBC journalist Supriya Menon. A Malayalam leadingdaily reported that the marriage will take place in Palakkad where a close group of family andfriends have arrived.
Prithviraj met the Mumbai based journalist four years ago when she was reporting newson south cinema for BBC World. Supriya was taking an interview of the super star. He fellfor her intellect and proposed to her. They fell in love with each other and started meetingin Mumbai every weekend. Their union was readily accepted by both the families. Their marriage was earlier planned to be held at Mumbai.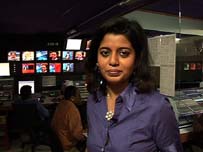 Rumors about the affair were heard through various newspapers and websites only coupleof months back. The private wedding is being closely followed after the release of the superhit movie 'Urumi' led by Prithviraj. The function will happen at Kandoth Taravadu Resort inKannadi, Palakkad. They are planning a grand reception for the film fraternity and friends in Trivandrum within a few days.
Super star Prithviraj made his debut with the movie Nandanam (2002). He acted for theMalayalam and Tamil film industry in over 50 movies. He received many awards duringhis career. He grabbed the attention of the nation through his acting in the movie 'Raavan'directed by Mani Ratnam. He also has an offer to work for director Anurag Kashyap.