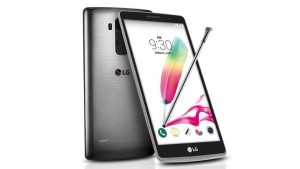 LG G Stylo is yet another addition in the smartphone market. The phone has a subtly arched plastic casing,
which it flaunts, as the dimpled patter gives a better grip and a fell in the hand. The signature feature of
the phone is however its volume control and power bottoms, which are placed on the backside of the phone. Stylo
is just not a budget phone, but it is a smartphone which offers multiple features. Android 5.0, battery
offering 3000 mAh, 8 MP camera, are some essential features of this phone. LG G Stylo offers 1 or 2 GB RAM as
internal storage, whereas 16 GB of expandable memory.
The display of LG G Stylo is 720×1280 IPS, the screen size 5.7 inch, and the device also comes with a stylus.
The phone is one of its kinds, as it is a stylish one with numerous features as well as is a pocket friendly
device. The stylus accompanied with the device is tucked on the upper right corner of the phone, and perhaps
the availability of this make the phone much more interactive. Though you might not expect anything
extraordinary, but the simplicity, the design and its features will appeal to you the most!
The LG G Stylo is available at $199.99 without a contract from Boost Mobile, while T-Mobile is offering this device for $289.92.