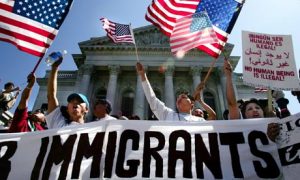 Economic experts say that President Donald Trump's immigration policies may leave the U.S in risk of becoming poorer and weaker. Donald Trump during this Presidential campaign had promised to clamp down hard on immigrants who are undocumented. While fulfilling his promise, the records of deportation under him are becoming high. The futures of those immigrants who have applied for US citizenship are also in question.
The skilled immigrant workers play a vital role in the development of the US economy. Offering skilled work at a discounted rate, it helps to increase the profit margin of the companies to a great extent.
He now, wants to build a wall on the southern border of the country. But instead of building a physical wall on the southern border of US as he wants, President Donald Trump is already building a virtual wall which is creating a lot of delays, and is preventing and frustrating people who want to go to US to legally pursue career opportunities, job opportunities, or for business, traveling etc.
Soon after he took over as the President of the US, he unveiled his first immigration executive orders which focused on interior enforcement and border security. Following these orders, was the signing the controversial "travel ban" and then its implementation.
Apart from the "travel ban" there are also other changes and policy pronouncements that are having a huge impact. The first one is the implementation of compulsory interview requirement for all green card employment based applicants as well as their family members. This means that if a person who has come to the US on an employment based visa wants a green card, he or she will again have to appear for an in-person interview. Earlier this was not required as the person was already vetted, screened and interviewed during the visa process and so the need of another interview was waived off. This will delay the processing of green cards as their dream of becoming US permanent resident gets delayed.
Another change is the delay and probable termination of the International Entrepreneur Rule. This rule gives temporary permission to highly skilled and talented entrepreneurs to come and build companies in US. The Trump administration initially delayed this order from being implemented. However this order is now being implemented after a court ruled that Trump administration disobeyed the law in detaining the rule. The Trump administration has still expressed an interest in stopping this rule.
There have also been a lot of changes in the long established policies of USCIS, which is the U.S Citizenship and Immigration Services. Earlier people who were applying for an extension of their legal status could rely on the USCIS for providing them assurance and some level of security that their extension application will be approved by taking into account their previous immigration petitions. But now the USCIS stipulated that it will not any longer give regard to the formerly approved immigration applications of people who are seeking extension of their legal status.
Also there has been a high increase in the number of Requests for Evidence and denials of immigrant and non-immigrant petitions of US immigrant workers by the USCIS. This is causing a lot of delay in the processing of the application and is also creating uncertainty for the US companies employing the foreign individual as well as the individual. These barriers are creating a lot of problems like shortage of labour for seasonal jobs, expanding restricting burdens and costs for the US employers, drop in the tourism industry etc. These changes in immigration policies will have a huge impact on the economic scenario of the country.