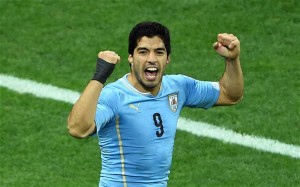 Rumors were afloat in the market that Luis Suárez's wife and children will celebrate the evening, dinning out in a table which will be close to the English media. The Uruguayan striker is much in the news for destroying England's hope much on the field.
He was looking happy and eyes were glittering when he said that "Before the game people in England laughed about my attitude over the last few years. I want to see what they think now. I have dreams of this moment."
Some critics are saying that there must be some motive behind Suárez's emotionally charged comments which he made in Brazil after crushing England. They are of the opinion that it seems that hardly he is going to live a long term life in England.
Reports are out in the media that Barcelona may offer 30 million pounds to this striker next season. Liverpool may also approach him from Real Madrid. Whatever the critics say, appearance of Suárez on the stage as one of the best players in the world is almost certain. He had a knee surgery few months back, which may have seen him out of the World cup. But he said that his Uruguayan physiotherapist has done a lot for him so can he can play in the World Cup. His fans are now expecting what more football he has to offer in the remaining matches of the World Cup.