Ragini MMS is a movie from the Ekta Kapoor, Balaji Telefilms banner. A look into the Ragini MMS review shows that the movie is centered round a young couple named Ragini and Uday. They went to a friend's farmhouse in the outskirts of Mumbai and their basic motive of going there was nothing but doing sex.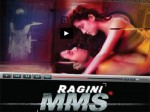 Ragini was not aware of the plans of his boyfriend who planned to shoot a sex tape out of it and sell it in the market at a high price. In the meantime, a third person comes into the picture who have fitted many such cameras in the farmhouse to spoil their intimate moments. But, to everybody's expectations, Uday and Ragini was captured by some supernatural force and were left at his mercy.
While writing the Ragini MMS review, I must admit that the movie is a good blend of sex, horror and real life thrill. The director has simply made the audience stunned as every silence scene is dominated by some paranormal activities.
The visuals of the Ragini MMS movie are simply extraordinary. The songs in the film are also inserted at the right place and the background score has really lifted the tempo.