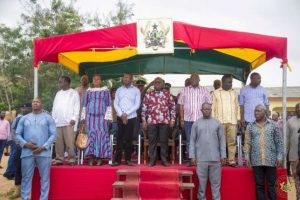 Funds from oil production will be used to finance the educational policy so as to improve the quality of human resource rather than filling the pockets of few individuals as stated by Nana Addo. He wants to fund the free senior high school (SHS) when the plan takes off next academic year. This was announced by the president Nana Addo Dankwa Akufo- Addo to durbar of chiefs and the people of Senya Bereku during his three-day tour of the central region. The idea was to interact with the native citizens and get their opinions on the government policies and programs.
The plan of free senior high school was highly condemned by the opposition party, National Domestic Congress in 2016. However, this policy is going to be operational from September as said by the President. It was very difficult for parents to send their children to secondary school but this policy is helping them by lessening their burden. The policy was very well planned by the Minister of Education, Dr. Matthew Opoku Prempeh to avoid any kind of complication during its implementation as said by the President. According to him, poor governance and economic mess led to the downfall of Ghana affecting the well-being of people. All the social intervention by the NPP intended towards reducing poverty would now be directed towards the welfare of the Ghanaians. NPP inherited huge debt from the previous government but that would not let the President administration back off. Rather he would work hard on his policies and programs to recover the trembling economy.
"One district one factory" program will be implemented soon in Senya Bereku as assured by the president. Infrastructural development is expected as one million dollars would be disbursed to each of the 275 constituencies. Employment opportunities would be created so as to prevent migration of people from one town to another in search of work. Measures are been taken and directions are given to the ministries of transport and roads and highways to reduce the excessive traffic congestion. Construction of roads would take place to facilitate the transportation of goods and services. To prevent any shortage of fuel to the fishermen, directions have been given to the Tema Oil Refinery to work extra hours. The disbursement of the one million dollars would be used for various welfare projects like providing electricity, water etc. women would be encouraged to carry out micro businesses to improve their standard of living.