Yesterday on November 17 at the finale the winner of "Top Chef: Just Desserts" was declared. In this episode three brilliant pastry chefs rivaled to win the title of the first "Top Chef: Just Desserts" winner. It was really tough to make the final decision on who gets the crown of Top Chef.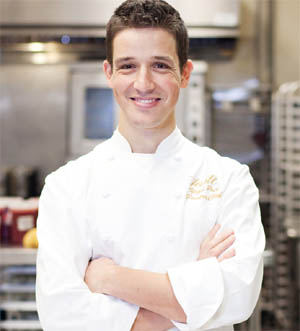 But after a thorough evaluation and tasting and consideration, the judges of the popular cooking show came to the point that Yigit Pura, who is a 29-year-old chef deserves to be the winner. Yigit Pura is originally a Turkish guy and he came from San Francisco.
Pura together with Danielle Keene and Morgan Wilson participated in the grand challenge where they were asked to prepare a four-course tasting menu.  These team members were paired up with ex- contestants to prepare varieties of dishes for 17 people. Yigit presented a delightful dish whose concept was based on dating and romance. He gave some appealing name of his courses like "Passion", "Love". "Gimlet", "Kisses in the Park". Each of them was greatly appreciated by the team of judges. Especially the dessert naming "Love" which was a hazelnut dacquese combined with milk chocolate, milk jam in addition to salted caramel ice cream was truly awesome and got huge praises.
Judges termed Yigit's sponge cake to be "brilliant" piece of art and host Gail Simmons couldn't help but saying that she was craving to take a bath in his lovely mousse and candy. The chef Yigit Pura bowed to his knees to honor the judge's decision when his name was announced as the winner. He said this was the most amazing moment in his life that he experienced after hearing his name as the winner, and that made him just speechless. He also said this trophy is going to change his life so vastly that he himself couldn't figure it out.
Yigit Pura got $100,000 as the prize money for being the winner of "Top Chef: Just Desserts",