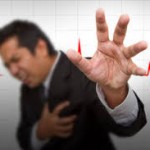 Have you ever heard of the link between low education and the risk of a cardiac arrest? Well, a research fellow of the Australian National University, Rosemary Korda, gives an insight into this disturbing but vivid finding. For establishing the link between risk of cardiovascular diseases, like cases of heart attack and stroke, and one's education the study took into account 267,153 subjects aged over 45 years in New South Wales for a period of five years.
According to the study, the chances of a heart attack was more than double i.e. nearly 150 per cent higher in adults who had no educational qualifications than the ones who had university degree in the age group of 45-64 years. In the same age group, the risk of heart attack was around 70 per cent higher in people with intermediate level of education. Further, adults of the middle age group who had not completed their high school had 50 per cent chances of a stroke as compared to the ones who had a university degree. This happened so because good education has an over lasting effect on an individual's health as education impacts the kind of job one does, the place where one lives and the food choices that one makes.
The study not just writes about the relationship between cardiovascular problems and education and the risks involved but also informs about the steps and procedures that can be taken to reduce the extent of the risk. The results were issued in the International Journal for Equity in Health.