Missy Elliot is in the news again after she announced that she is suffering from a rare Graves disease since 2008. Hearing the news, many people are willing to know what exactly is the Graves Disease?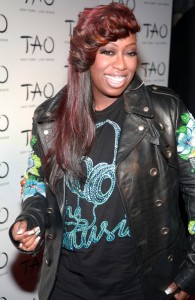 After consulting with the doctors, reporter of news365today.com has come to know that Graves disease is an autoimmune disorder. It is also a very common cause of hyperthyroidism. It happens when the immune system of the body attacks the cells because it becomes unable to know it's own cells. The thyroid gland stimulates the antibodies and as a result, the thyroid goes into overdrive.
In case of Missy Elliot, hyperthyroidism seemed to have affected her neurologically to a great extent. She said that she is suffering from this Graves disease since the year 2008 when she faced a car accident. As a result, R&B fans have been noticing that musical output of Missy ahs been going slow for the past few years. Once upon a time, the urban radio would not have gone without a single day without Missy and Timbaland. Missy has confessed that she will have to live with the Graves disease for her entire life. The Graves disease cannot be cured, but the symptoms can be controlled with some therapy.
The person suffering from Graves disease may encounter great swings of mood, loss of memory, various mental problems and feeling irritated sometimes. The signs and symptoms are summarized as follows –
Enlarged neck
Protruding eyes
Diarrhea, frequent defecation
Muscle weakness
Cardiac problems, such as irregular heartbeat and high blood pressure
Excessive sweating
Hot, moist skin
Heat intolerance (you feel hot most of the time, especially at night)
Nervousness
Sleep disturbances
Weight loss even though you're eating more