Announcing the launch of Galaxy Note 5 and Galaxy S6 edge+ smartphones in New York, Samsung authorities said that they have felt that the transformation of smartphones have been from just nice to having some useful things. Keeping this concept in mind, Samsung note 5 has been made such that users can easily operate the features holding the 5.7 inches phone in one hand.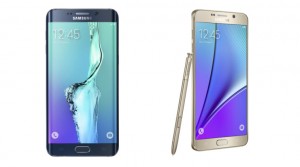 The hardware used in Samsung note 5 and Galaxy S6 edge + is the same. Note 5 comes with a dual curved back and has got a flat display, while Galaxy S6 has got a dual curved screen just like its previous model. Offered with a 5.7 inches Quad HD super AMOLED display, both the models have a pixel density of 518 ppi. The S6+ has got a unique edge screen where the user can pin five favorite apps along with the contacts.
The Galaxy Note 5 has got an improved S Pen. The unique feature of the new stylus is that it comes out with a click rather than using the nails to force the thing out, like it was in the earlier versions. There is also an option of taking notes with the stylus and at that time, there is no need to unlock the device.
Users will be happy to know that the internal memory given is quite large. The music lovers will be delighted to know that while note 5 has got 32 GB internal memory, the S6+ edge has got 64 GB internal memory. The OS used is Android 5.1 Lollipop OS and both the sets have been powered with octa-core Exynos 7420 processor and a 4GB LPDDR4 RAM is attached to it.
If you have a fantasy of clicking pictures, you will be happy to know that Note 5 has got a 16 MP OIS f1.9 rear camera and a 5MP f1.9 front one. There is Bluetooth 4.2 powered with Wi-Fi 802. The devices have also got fingerprint scanners.
You can also have choice of colors as they are available in Black Sapphire, White Pearl, Gold Platinum and Silver Titanium color options.
The companies add one feature and deduct the other and at the end, to the consumer, it seems like serving the old wine in the new bottle.