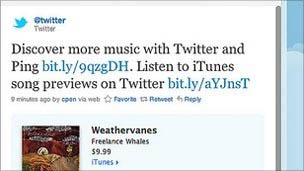 Apple's social music site Ping gets integrated with Twitter so that the users can explore more music. The initiative to partner with a popular networking site finally gets the nod by Twitter. Before that, Apple tried to join hands with Facebook which is supposed to be the world's largest social network, but somehow the deal didn't materialize.
Apple unveiled their Ping network service in last September. This site integrates iTunes to facilitate its users to follow their favorite artists and recommend preferred songs to their friends' network. According to the industry experts, this venture is going to provide a positive boost up to Apple's social music site Ping to grow further.
The company was looking for the new ways to promote their iTunes in order to carry on with their existing customers besides encouraging new customers keep coming in. They are expecting that this initiative will certainly prove to be beneficial to augment their sales as well.
During the launch of the Ping, Apple CEO Steve Jobs told to the media that they had been discussing with Facebook regarding the most desired venture, though it was difficult to come to an agreement for both of them since Facebook gave very hard conditions which were difficult for them to meet at that moment.
Since Twitter has approved the partnership with Apple, its time for Steve Jobs to breathe a sigh of relief. On the company's blog Twitter stated millions of twitter users send more than 95 million Tweets per day, and a major portion of the tweets are about the music they prefer to listen.
The latest link-up between Apple and Twitter clearly indicates that opinions and reviews in Ping from now on will be sent as tweets on the users' Twitter feed along with the links to the music on iTunes.
These tweets will then expand to let the users play a preview of music or connect to iTunes to purchase it.