World is shaken with the news of the huge explosion in China that took place on Wednesday at around 23:30 (15:30 GMT) following by another more devastating blast leaving at least 45 people dead with hundreds of injured.
This shocking blast happened in a warehouse located in China's northern city of Tianjin. According to sources the warehouse was storing some dangerous explosive chemicals that triggered the blast.
The severity of the explosion can be easily estimated with China explosion videos that are being circulated throughout the internet. The enormous flames and vibrations generated with two consecutive blasts in the China explosion factory have tore through the northern China port city. According to the local witnesses the initial fireball was so powerful that it lit up the sky above Tianjin and residents felt the shock-waves from several kilometers away.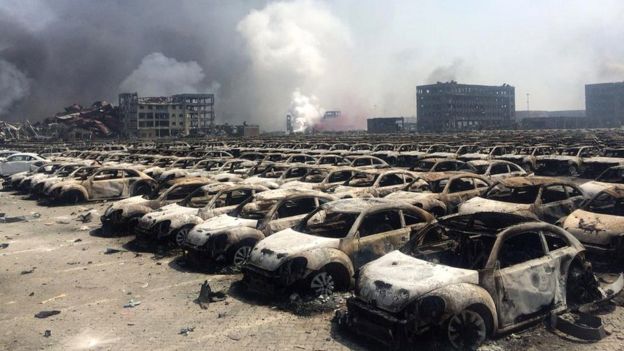 Reuters has reported that more than 400 people are seriously injured and hundreds are missing. President Xi Jinping has requested "all-out efforts" to save explosion victims and control the fire.
The China Earthquake Networks Centre has confirmed that the magnitude of the initial blast was the equivalent of exploding 3 tons of TNT, whereas the second was the equivalent of 21 tones of the explosive.
Authorities are still trying their best to figure out the exact number of casualties and injured people.
Death toll rises to 44 from massive #Tianjin blasts pic.twitter.com/VMrUe0GskU

— China Xinhua News (@XHNews) August 13, 2015
Album: Death toll reach 44 in #Tianjin warehouse #explosion, 12 firefighters are among the dead pic.twitter.com/c6fPlTVN9o

— China Xinhua News (@XHNews) August 13, 2015