Reality star Audrina Patridge is in the news for all wrong reasons. She is posing in a sexy bikini for her going to be first bikini calendar. She is determined to go ahead with the photo shoot even if her mother Lynne, sister Casey has got objections to the shoot.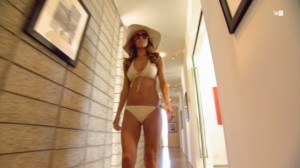 Reacting to shooting of the sexy scenes, Audrina Patridge said, ""Posing half-naked in front of a bunch of guys, you know everyone is staring at you and you're trying to do your best and look sexy and pose and it's super awkward," she says. She is doing this photo-shoot with photographer Willy, who is famous for shooting photos of sexy girls in Vogue and Playboy magazine. Audrina Patridge was worried that her boyfriend may get angry seeing her shooting in such bold poses.
Rumors are also going around in the air that Audrina Patridge is going to have a new boyfriend as she is seen to be spending a lot of time with the handsome polo player from Florida, named Nic Roldan. Nic has confirmed the news, saying that they are going around for just a couple of weeks and said that she was great.
Nic Roldan is 28 years old and is a leading American polo player. He stays in Palm beach, Florida and he gave Audrina Patridge some polo lessons there. Source close to both of them confirmed the news, saying that their relationship is blossoming and they are just enjoying the time together.