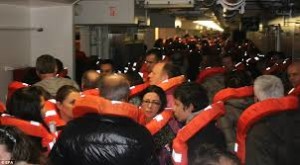 Boeing 777-200 of Malaysian Airlines carrying 239 passengers lost contact with all authorities while flying over the South China Sea. The flight was scheduled to reach Beijing from Kuala Lumpur at 6.30am local time Saturday (22.30 GMT Friday).
According to Malaysian Airlines, the flight took off from Kuala Lumpur at 12.41 am local time Saturday (16.41 GMT Friday). Passengers included people from various countries like China (153), Malaysia (38), Australia (7) and America (4). At 1.20am local time (18.20 GMT Friday) the plane lost communication for two hours according to Xinhua News Agency from China.  Vietnamese website VN Express that few signals were detected about 120 nautical miles in the south western part of Ca Mau province in Vietnam.
Authorities of Malaysian Airlines however took immediate steps to alert rescue teams and find out ways to locate the aircraft. Ahmad Jauhari Yahya, the Chief Executive of Malaysia Airlines, has promised to extend full support to families and friends of passengers and informed that best measures to handle such emergency situation are being mobilized. John Andrews , deputy chief of Philippines civil aviation agency also said that all countries that fall on the path of the said flight had taken up search activities as well. Fuad Sharuji, the vice president of operations in control of Malaysia airlines also said that there were no signs of faults from the pilot.  Sources also confirm that the pilots were experienced persons.