Yesterday was the day when fans of the renowned musician Cee Lo Green were keenly waiting for their favorite singer to perform at the opening day of Coachella. But alas, it was really disheartening for them as Green was not able to perform at the show with ease.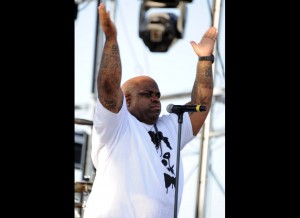 The singer arrived little late at the concert due to mismanagement on the promoters' parts. But he requested the crowd to keep patience as he reached 20 minutes late to the stage. Even though that delayed the show, fans were still excited for him to start singing some of his classics, which he did. He managed to handle with the upset audiences by singing five of his most popular songs, and "F**k You" and "Crazy" were among them. Just when he was preparing to start his cover of Journey's "Don't Stop Believing," his performance was discontinued unexpectedly, leaving his fans baffled by this lack of music. Initially audience took it as a technical fault as Green left the stage angrily, followed by his band.
But after a while his fans realized that he was cut off with the purpose of keeping the schedule in time and running smoothly. The fans, who were initially irritated at the singer for the delay, were soon after seen to be furious at the promoters of the show.
Internationally, Green is mostly admired for his work within the R&B/hip hop duo Gnarls Barkley and their worldwide hit "Crazy" (2006), which reached the top position in different singles charts globally including the United Kingdom. In the United States, "Crazy" received the number two position on theBillboard Hot 100.