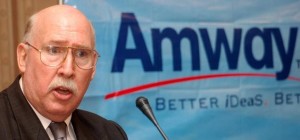 The CEO of Amway in India, William S Pinckney got arrested by the Andhra Pradesh police. He has been taken to custody for 14 days and had been presented before the Judicial Magistrate, today. He faces charges of cheating and violations according to the Prize Chits and Money Circulation Schemes, Act 1978. These proceedings were undertaken after a case that was filed against the company in December 2013. According to the SP of Kurnool, all those who have been involved with the business of this company will be treated as a part of the illegal activities.
The police arrested the convicts after an investigation, and also seized their products, stock points and the business properties. This company has been working in India since 1998, and has been manufacturing over 140 products. The company has stated that due to the absence of legal provisions for the direct marketing industries, cases being filed are being misjudged, and thus being registered under Prize Chits and Money Circulation Schemes, which is actually meant to regulate monitory schemes. The case against them had been filed under section 420 of IPC. The arrest of the CEO of the company has taken a toll in this business, and it has crashed down completely. Along with William S Pinckney, three other others Venkateswarlu, Vinaykumar and Erranna, also got detained for having supported the business.
According to the officials of Amway, the complain against them in the FIR is untrue, and gives misleading information about their business. The action against them was rather very shocking, since they had no prior information about the action of the police. Amway had made an investment of £100 million in the manufacturing of various products, in India. The CEO and the other officials are to remain under custody until the investigation and the interrogation is completed.