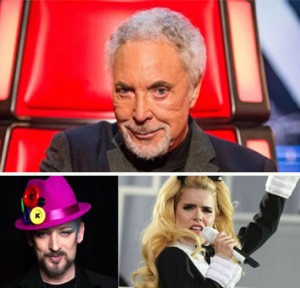 Axing of the famous British singer Tom Jones by BBC from their talent hunt show The Voice has brought mixed reactions from different corners. While Sir Tom Jones said that he was disgusted as he was informed only yesterday by the BBC authorities that he is not returning. He will be replaced by Boy George and Paloma Faith to join as the team of judges in the Voice 2015. Paloma became famous in 2009 with her debut album Do you want the truth or something beautiful?
Fans of Tom Jones have burst into anger in the social media circuit, some even saying that they will leave watching The Voice show. One of his fans wrote "So I guess the BBC is trying to kill off #TheVoiceUK given that they've replaced the legendary Tom Jones with no-voice Boy George." Some even expressed anger the way the legendary singer was handled without any minimum respect.
One fan wrote
"It's disgusting how @BBCTheVoiceUK have treated Tom Jones."
Tom Jones wrote in his Facebook page,
"This sub-standard behaviour from the executives is very disappointing. I will always admire the courage of the performers who participate in the show, as well as all the production staff who worked tirelessly to make a great family viewing experience for the audience at home. I wish the show well."
Meanwhile, BBC has defended their decision of axing him from The Voice saying that the decision was announced in the media and it was communicated to Tom Jones a day earlier, so that it does not looks "leaked". The authorities also went to the extent of saying that this was the practice going on for years as no role was given "forever." Reacting to the incident, Tom Jones said that he was disappointed as there was no warning and no discussion on why they were unhappy with him.
The newcomers Paloma Faith and Boy George are quite excited and thrilled to join the show. Boy George, 54 was a huge hit in the 1980's with his band Culture club which sold 50 million copies worldwide. Boy George said that he was excited about the fact that he will help others to win the show.  Expressing her happiness Paloma said,
"I'm really excited about working with creative people, who are there not just to be great singers but also innovative personalities and performers."
It is evident that one day the old have to bid goodbye to give space to the young. But the goodbye needs to be done respectfully.