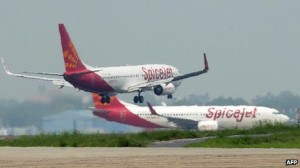 The Spice Jet has placed an order of 42 Boeing's 737 max aircrafts worth $4.4 billion deal. Spice Jet is India's fourth biggest airline with the increase in its market share by 7%. Spice Jet is now expecting more and more new investors.
Spice Jet was struggling a lot to raise its profits due to increased fuel costs and a weak rupee. "With the introduction of Boeing 737 max we are sure that we can now modernize fleet, improve customer experience and ensure to operate the most efficient fleet in coming future," said S.L. Narayanan who is the chief financial officer for the Sun group that owns SpiceJet.
Till now SpiceJet has ordered about 90 aircrafts from Boeing out of which 31 have already been delivered to them. Boeing Co (BA.N) said that they will start their delivery of 737 max aircrafts to the customers only from the year 2017. Till now the aircraft makers have taken a total order of 1800 for the Boeing 737 Max. S.L. Narayanan said that the payments for the order will be made closer to the delivery date. It is now in a plan to take up new planes and new investments in order to revive its future.