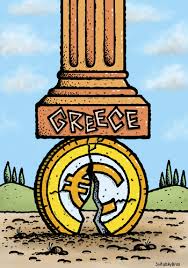 Greek debt crisis takes new dimensions with Eurozone leaders reaching an agreement over marathon talks in Brussels. They arrived at a conclusion finally on continuing support to Greece in such trouble waters after as long as 17 hours of uninterrupted talks.
EU chairman Donald Tusk confirmed the story by saying that the leaders have unanimously decided to continue supporting Greece "in principle" over the negotiations for its bailout.
Greek Prime Minister, Alexis Tsipras sounded positive when he said that the nation has secured a growth package of about 35 billion Euros and is quite on the right track of debt restructuring. Now it is all about full filling the demands of the Eurozone by passing the reforms by Wednesday.
Jead-Claude Junker, head of the European Commission is very affirmative about Greece staying well in business. He is quite optimistic that there would not be any 'Grexit'. There had been a buzz for quite some time over the festering fiscal deficits in Greece and there was a possibility of Greek leaving Eurozone failing to meet the deal. However, such affirmative response from the European Commission's head is more of a boon. Moreover the Prime Minister too believes that there is not a trace of such a disaster happening, instead Greece is all set to bounce back with large scale fiscal recovery.
Tsipras however, exclaimed that the deal is indeed difficult but the possibility of moving the state assets abroad has been averted nicely. Thus a financial strangulation that may have choked the banking system and had possibly resulted in a complete collapse has been successfully avoided.
The head of the Eurozone group of finance ministers, Jeroen Dijsselbloem explained the deal in details. The agreement provides for a package of 50 billion Euros to Greece that will manage the Greek assets. Out of that 50 billion Euros, half the amount will be incorporated to recapitalize the Greek banks, which is now in grave trouble waters.
The banks were closed for as long as two weeks and the upper cap on debits were fixed at 60 Euros per day. Quite naturally it had affected other businesses as well.
The Eurozone finance ministers are due to meet again on Monday to discuss further on this budget sanctioning that will help Greece to meet its immediate and short term needs. The road is long and plenty of negotiations are yet to be done. What happens next will be highly critical with respect to the fiscal recovery of Greece.