Sanjiv Bhatt, the IPS officer who was suspended from service few years back, has now been sacked from service. While sacking him from service, Government showed the ground as "unauthorized absence" from service. Reacting to him being sacked, the IPS officer said that the outcome came as a result of a "sham inquiry".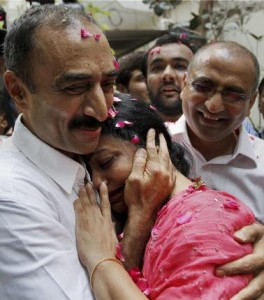 Speaking to the media, Sanjiv Bhatt said, "Yes, it is true that my services have been terminated. This was expected. They have been conducting a completely ex-parte inquiry. I got the letter (sack order) from them (the Home ministry)."
The Government said that they have found Mr. Bhatt with another woman in an 11 minute video and he was having an affair with a woman. Being an IPS officer, he was having an illegal affair and that is against the rules of his service.
Denying the allegations, Sanjiv Bhatt said that he was not the person who was shown in the video clip. In fact, he said he was also ready for a biometric test, if needed. This IPS officer was in the news since long time as he became famous by alleging Mr Narendra Modi for Gujarat riots.
Bidding good bye to his police career, he said, "I had joined the police with a passion, now it seems the country and this government does not need me. So whatever has happened is good. I cannot impose myself on the government."
Fight between the politicians and bureaucrats is a long story in Indian administration. Many bureaucrats have faced the wrath of their bosses in the past.