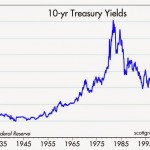 Signs of recovery seemed evident as construction of new homes increased a lot in the month of July, may be highest since the Great recession started in the year 2007. As a result, treasury yields went up to the highest on Tuesday since last week as latest data on home recovery reached the market.
Market went up due to strong anticipation that going by positive sentiments, Federal reserve may increase the interest rate this time. The Federal Open market committee is expected to meet on September 16th for two days on this. Market is also waiting for the report on Consumer Price Index, which is very important as that will show whether Federal Reserve has reached to their 2% inflation target.
But market experts are of the opinion that consumer price index is under pressure and the global markets are showing signs of slowing down. They feel that the deflationary pressures will continue to exist.
In the meantime, yield on Government bonds also went up in Europe. Investors are also keeping a watch on the votes that are scheduled to be held in Germany and Holland, on the Greek bailout package.
Is this a recent example of butterfly effect – the downside in Greece having an effect on the Wall Street?