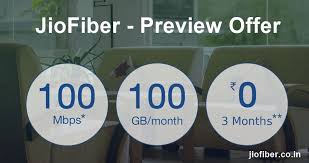 With just a 1 year completion of launch of Reliance Jio, the Indian telecom sector is experiencing disruption.  The company has created some mixed waves in the sector because of its huge offer of six months free service and has also literally compelled its competitors to drop their tariffs too. It has introduced some offers which are ranged at aggressive prices which has given a tough competition to its competitors. It is expected that JioFiber will do the same with its broadband industry. It is said that it will introduce some advance level technology to make available the high speed broadband at nominal prices.
However, the launch date of JioFiber is still not known. The company announced, earlier this year, that JioFiber is going to be launched under JioFiber preview offer for free at various states such as Ahmedabad, Delhi-NCR, Mumbai, Jamnagar, Surat and Vadodara. A picture of JioFiber plan was posted on Reddit showing us what it might look like. The JioFiber plan will provide us 100GB per month with a 100 mbps speed for 3 months at Rs 0. It is seen that the Jio is following its effective price policy as Jio phones. As said, the commercial launch date is not known but it is expected to be launched somewhat in the last quarter of this year. The catch of the offer is that the customers have to pay 4500 for its installation however, the data is absolutely free. According to the company even this amount can be refunded later. The free period of 3 months is what will attract the attention of customers.
JioFiber is anticipated to create the same effects in broadband industry as created by Jio 4G, last September. The official announcement regarding the launch of JioFiber at Delhi-NCR, Vadodara, Surat etc. was also made this May. In order to promote extra services, the Jio Broadband service will come with Jio media share like router, smart set top box, Power Line Communication. Customers have to pay Rs 500 for 600GB data and Rs 2000 per month for 1000GB data at 100 mbps speed, when the offer ends. Sensing tough competition, the biggest telecom arena Airtel has also updated its broadband services. State broadband providers like BSNL and MTNL are also affected by Jio's broadband plan as majority of the broadband connection in India is claimed by them. All the network providers are cutting down their tariffs to be in competition.