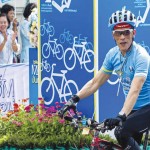 Hundreds and thousands of Thais cycled this Sunday in Bangkok to mark Her Majesty the Queen's 83rd birthday, led by HRH Crown Prince Maha Vajiralongkorn.
Around 295,000 people registered for 'Bike for Mom' contest in advance, out of which 40,000 participants were from Bangkok itself, while about 254,863 participants were from other provinces. Foreign riders were also allowed to participate in this contest. As per the Guinness World Records, there was 146,000 eligible cyclists participated and rode the cycle at the same time. It has created a new Guinness Record, surpassing the record set in Taiwan where 70,000 cyclists participated.
Guinness Records also confirms that participants had to follow the rule that was set for the event, which states that every participant had to leave from the starting point at the same time nationwide and it was mandatory to ride continuously for four kilometers before a halt.
The Crown Prince had presided over the opening of the event in Bangkok at Royal Plaza. After the horn was blared to indicate the start of the event, he and his daughter HRH Princess Bajrakitiyabha led the procession to the 11th Infantry Regiment, completed 43 kilometer route and returned to the starting point. The other provinces that participated in the event followed different routes to join the event.
Eminent people, from different walks of life participated in the event to express their gratitude to Her Majesty the Queen. From the present ministries to former PM, everyone participated in the event to make this event a gala celebration.