Russia will be the host for FIFA World Cup 2018 and Qatar will host the World Cup 2022. The FIFA world cup 2014 is supposed to be held in Brazil. It is a surprising fact to know that the football tournament will be held in mid summer and Qatar is going to show the power of technology to cool down the players and the fans at the stadium.This was made to know by the World Cup 2022 announcement by the FIFA authorities.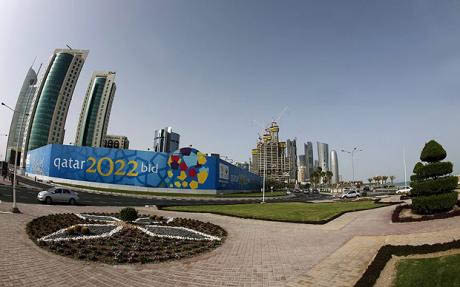 The Qatar World Cup will see some amazing combination of football and technology as there will be a solar unit in each of the five stadiums to convert solar energy into electrical ones. During the resting time or when games are not taking place, solar energy will be captured and stored into the power grid. They have promised to make every stadium air-conditioned. It will be a real surprise to see football matches in the Qatar World Cup.
It is extremely hot in Qatar and hence temperatures rise to 115 to sometime 120 degrees during the month of July. With a population of only 1.3 million, Qatar is going to be the smallest country in the world to host the FIFA World Cup. Though small, but no body can deny that the country is immensely rich and can easily afford to host the Qatar World Cup.
Football fans are wondering whether this conservative Qatar World Cup will allow wearing of bikinis under the scorching heat.