Reputed phone maker Nokia has recently unveiled two affordable handsets in UK. These handsets are specifically intended for the budget conscious consumers. A few days earlier Nokia faced a big threat to its reputation due to a power management fault in one of its high end device i,e. Nokia N8 smartphones. Perhaps the recent release of the cheap handsets is an attempt to gain the lost faith of the buyers who are looking for an inexpensive cellphone priced within £100. The latest Nokia handsets are known as C2-01 and X2-01 and are priced at €70 and €80 respectively. Nokia is putting more emphasis on its affordability, so that it appeals to the low budget consumers. It seems, during the world wide recession Nokia has hit the right note to increase its mass acceptance.
Nokia C2-01 Features & price: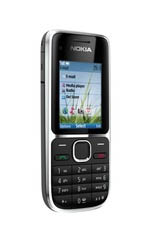 According to the grapevine, the new C2-01 lacks some features. But, Nokia being focused solely upon the price issue says, it is their most economical 3G handset and therefore will surely serve the purpose of the buyers to the fullest. Moreover, this candybar handset also gives the buyers a feel of stylishness. The buyers will never get such a good deal at such a low price. It comes with a 2-inch wide screen along with a 3.2 megapixel camera that offers good quality pictures. Music lovers can spend lots of time listening to the built-in FM radio. Nokia C2-01 is supported by 16GB memory card capacities. This handset will most probably hit the stores in the first quarter of 2011. The handset will be available at €70 contract-free price.
Nokia X2-01 Features & Price:
Nokia X2-01 has got a very intriguing look. It offers text messaging facility with a QWERTY keyboard.
The device's hardware is very simple. It boasts of a 2.4-inch QVGA screen and a low end VGA camera. Moreover, the X2-01 has got only 8GB of external memory support and it doesn't include any WiFi connectivity. The device is supported by only GPRS and Edge due to low price.
Many experts have stated that Nokia claims these devices to offer messaging facility, but it doesn't provide 3G which seems a bit odd and rare. Apart from these disadvantages, Nokia X2-01 offers a long battery life. Therefore the users can stay assured when they are on the go. The handset will be available at €80 without a contract.  This low cost messaging device will be up for sale in the next few weeks.