Fans of the mobile handset maker Nokia will be happy to know that they are going to launch around 40 mobile handsets in the Indian market in the year 2011. Out of these Nokia X7 is going to get special attention because of the attractive features which the handset can boast of having in it.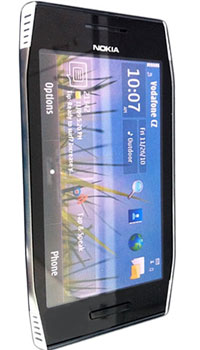 As per the news available with different sources, our reporters have come to know that Nokia X7 price in India is going to be around Rs 23,300. In US currency it is going to be approx $560.
Nokia X7 is to be operated on Symbian Operating System and the handset has got features like Wi-Fi b/g/n with Bluetooth 3.0 connectivity. There is also Pentaband 2G/3G support and the users will also be able to enjoy free Ovi Maps walk and also drive navigation. Nokia X7 will get launched in India in the second quarter of year 2011.
NokiaX7 has got a 8 MP camera with 3264×2448 pixels and inbuilt memory is 450 MB. Hence, one will really enjoy the handset if he has got likings for photography. But the drive by Nokia to launch so many handsets in the Indian market is due to the reason that they have been losing market share in smartphones market for the past two years to the rival competitors.