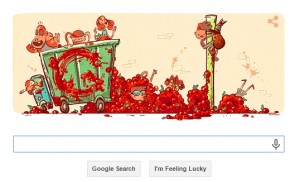 La Tomatina fun approaches slowly as we move further in the month of August. In the last Wednesday of August massive trucks carrying heaps of tomatoes arrive in the streets of Bunol, a small town in Valencia province of Spain.
This time the fun gets even doubled as the playful Google Doodle designed by Nate Swinehart will mark the celebration of the World's biggest food fight's 70th anniversary.
This depicts jolly people pelting tomatoes at each other with themselves being inside a knee-depth pile of squished fruits. It also shows the ham on a pole ritual nicely, with the ham being placed to the top of a greased pole right at 10AM. A challenger, generally a muscular and tough guy goes up to the top to secure the ham and at once he does this, trucks with over-ripe tomatoes arrives.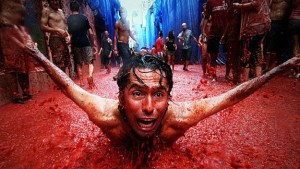 The tomatoes being used are not edible enough, nor are they suitable for cooking. So there isn't a trace of food wastage at this wonderful festival.
The beginning of this wonderful festival is not known exactly but is supposed have its origin back in 1945 when a man was pushed off a float while there was an annual carnival parade. Fuming at this the man started throwing tomatoes that he collected from the vegetable shops towards everyone he saw. The mob did reply in the same manner and possibly this incident marked the beginning of such a famous festival. It was officially legalized in 1957 after repeated attempts to dissolve the festival went in vain.