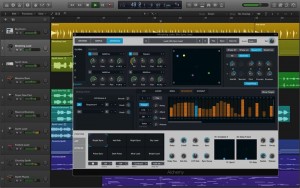 Professional level music creation gets even mightier with Apple upgrading its music creation tool Logic Pro X. This happened to be one of the best music creation tools at professional levels. The recent upgrade was a major one (10.2) and has also added a wonderful feature of Alchemy synthesizer into the mix. Artists can also share their creation with their fans via Apple Music's Connect feature.
This update happens to be the second major upgrade to Logic Pro X this year. The Alchemy sample manipulation will help casual users find new samples while providing technical artists with more sophisticated and optimum music quality.  
For professional expert music creators, the inclusion of Alchemy will come with multiple synthesis engines and a chunk of morphing features. A feature of this program called Transform Pad lets one choose up to eight samples. These sample can be monitored on a screen and one can reshape and modify the sound by controlling the cursor there.       
The wonderful upgrade will be available for free for existing owners of the program while the full suite will be available for $199. Apple also endeavors to make the controls easy and understandable for users who are not well acquainted with the program. Since there are a lot of intricacies aimed at providing the best music quality to the pro users, it may be a bit difficult for the casual users.
Besides updates to Logic Pro X, Apple is also set to release updates to MainStage (3.2) on Mac App Store and Logic Remote for iPads in App Store.