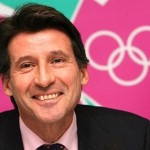 Sebastian Coe has been elected as the president of International Association of Athletics Federation (IAAF) on Wednesday. Winning by a ballot vote of 115 to 92 in the 50th Congress of the governing body, he was looking very happy and enthusiastic after the victory. He defeated Sergey Bubka of Ukraine.
Lord Coe himself is a reputed athlete as he is the 1,500 metres champion in Olympics. He will took over the charge from Lamine Diack of Senegal, who was at the head of the body for the last 16 years. Coe will run the body for four years.
Coe is taking charge at a  time when the sports of athletics is battling a public relation crisis as it is often accused of rampant cases of doping in the sport. Speaking to media persons after being elected, Coe said that he is going to set up an independent agency to probe doping charges.
When any one assumes charge in any sport governing body, he always promises a golden future of the sport in the coming years. Only time can prove that whether he is right or wrong. Common man finds entertainment in sports while honest and dedicated sportspersons want a fair judgment of their talent and dedication.