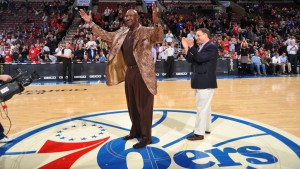 It was gloomy Thursday for all basketball lovers as the former National basketball Association star Darryl Dawkins passed away. Popularly known as "Chocolate Thunder" for his flamboyant personality, Darryl died of heart attack.
The 58 year old man had a charming personality that even outdoes his career statistics. He featured in all total 14 NBA seasons and had an average of 12 points with 6.1 assists and 1.4 blocks per game. But for everyone "Chocolate Thunder" was the man with a charming big smile, nice personality and a golden heart. He had ferocious dunks up his sleeves and often named them like "Dunk you very much" or "Yo Mama".
It was due to his gigantic height of 6 feet 11 inches and a size that weighed 255 pounds, NBA was more than just forced to impose fines and suspensions for breaking backboards during games.
Back in 1975, Dawkins was still a schoolboy in the high school when he was inducted for the first round of NBA draft. Philadelphia 76ers selected the living giant and Dawkins then happened to play for them for seven long seasons.
His enduring charm and a heart touching smile will be missed by millions of basketball enthusiasts.