One of the top leaders of the infamous La Familia drug-trafficking gang has been caught by police in an extremely lethal internal fight recently. The gang leader is arrested by Mexican federal police, authorities announced Tuesday.
Jose de Jesus Mendez, one of Mexico's most-wanted drug lords who is also called "El Chango,", has been taken into custody in the central Mexican state of Aguascalientes, in fact without a struggle, authorities said.
According to authorities, Mendez led a group of La Familia, the coldblooded and at times cult-like network that specializes in manufacturing and shipping methamphetamine to the United States. La Familia is based in Michoacan, which is also the home state of President Felipe Calderon is a strategically vital region for drug trafficking due to its coarse landscape and large seaport.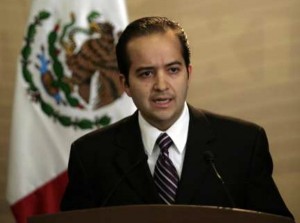 The government's security affairs spokesman Alejandro Poire, said to the media said that, "With this capture, what was left of the command structure of this criminal organization is destroyed."
He describes Jose de Jesus Mendez as La Familia's most main operations leader and accuses him for a long list of criminal activities including murder, kidnapping, extortion and grenade attacks on civilians occurred in that region. Government had beforehand attributed all these crimes to another criminal organization, named the Zetas. But later the investigating officers came to know who is behind all these offenses and planned their operations accordingly. The government had also offered a reward of more than $2 million for Mendez's capture.