The British Prince William has announced his engagement to long time girlfriend Kate Middleton. The couple is reported to be dating for quite long time. Lot of speculations has started gaining ground over the future of this another royal marriage in England.
In a press release announced by the Royal Monarchy, the couple may marry either in fall or summer of 2011. Prince William is considered to be second in line to the British throne.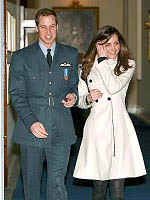 He proposed to his long time girlfriend Kate Middleton during last October when they went for a vacation in Kenya.
Prince William has also taken the permission of the Queen and other senior members of the Royal family and he will also soon take the nod of Ms. Middleton's father. The couple will stay in North Wales after their marriage as Prince William is now serving the Royal Air force there.
All eyes will be focused on this marriage of the British royal family since many marriages and divorce related controversies have bothered the family too much. The affair and death of Princess Diana draw huge international attention and other marriages of the royal family has also ended in a divorce.