Millions of voters casted their votes to choose their favorite actors and actresses for much awaited People's Choice Awards. We saw that most of the viewers preferred pirates over vampires and it was quite evident that Kardashians are more admired than the "Jersey Shore" on Wednesday night  People's Choice Awards red carpet.
Johnny Depp was given the award for Favorite Movie Actor, and circumferences "Twilight" star Robert Pattinson. Depp received the honor from host Taylor Swift, who was also a winner: this 21-year-old lovely lady picked up the award for Favorite Country Artist.
Pattinson failed to get in the Favorite Movie Star Under 25 Award – which was given to winner Zac Efron.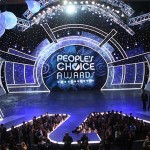 The cast of "Jersey Shore" was nominated for the Favorite TV Guilty Pleasure award, but could not win the category to the "Keeping Up with the Kardashians" clan.
Neil Patrick Harris and also Jane Lynch received the Favorite TV Comedy Actor and Actress awards. Moreover, Adam Sandler was given the Favorite Comedic Star award which he received from presenter Jennifer Aniston. Another winner of the award was Conan O'Brien, for Favorite Talk Show Host.
Host Queen Latifah started the show with a presentation of Taio Cruz's "Dynamite," which got the star-studded viewers to its feet. Other wonderful presentations were performed by Selena Gomez and Kid Rock to make the event more memorable one.