April 15, 1947 was Jackie Robinson's date with destiny that made him a legend in Baseball forever. Today Major League Baseball (MLB) commemorates the 64th anniversary of Jackie Robinson's debut in a Baseball game with Brooklyn Dodgers. Another significant achievement was that a black was playing in the MLB for the very first time.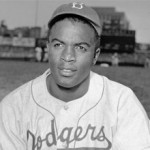 As it happens before any momentous occasion, controversy prevailed over the inclusion of a black in the team. Teammates were not supportive and did not like the feeling of playing alongside a black. But the team management showed undying support for Robinson and did not let the media add fuel to the fire.
Robinson's contribution, his struggles, and passion for the game of baseball are appreciated even by young lads of today. Robinson ended years of racial discrimination against Negroes that suppressed them to progress any further than the Negro leagues. Apart from his on-field brilliant display, he added many firsts to his name. He was the first black vice-president in a firm, first helped open a bank for African-Americans, etc.
This year MLB has launched an online campaign called IAM42.com to show its continued support for the great baseball player. As a part of the campaign, badge No. 42 is highlighted by it being worn by all players and on-field personnel.
The initiatives taken by Robinson were continued further into a revolution by Martin Luther King by his Civil Rights Movement. The success of the first Black President of America, Barack Obama is also a reflection of the same.