JIT Mukherjii
After completing his MBA in Financial Management, he decided to shift to writing and took it as his full time career. Being the Editor-in-chief of this web magazine, he has got diverse interest in the field of politics and business related matters.
Related Articles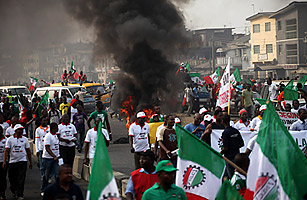 The oil rich Nigerian nation has come to a complete halt as the people of the country are going for massive demonstrations and strikes, protesting against the Government's decision to hike the fuel prices to a great extent.
A situation in which the brain cells abruptly die due to the lack of oxygen is known as stroke. It can be initiated by an obstruction in the body-fluid flow, or the rupture of an artery that feeds the mind.
This year 2011 will see the Easter Sunday coming very late. In fact, coming of Easter is so late that to some people it is supposed to be the latest Easter in their lifetime. Eastern Sunday happened to come so late last during the year 1943 and in that year, it came on 25th April. […]