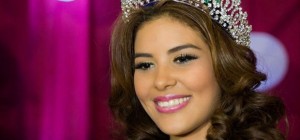 Miss Honduras who was to have flown to London to participate in the Miss World pageant was found dead with her sister along the banks of a remote river in Honduras today. The two women, 19-year-old Maria Jose Alvarado and her 23-year-old sister Sofia, were killed by the sister's boyfriend.
The incident occurred on November 13 after Plutarco Ruiz had a heated argument with Sofia because she had danced with another man. Ruiz first shot Sofia and then Maria as tried to escape. She was shot on the back twice. The bodies were discovered the next day after the murderer led the police to the gravesite in the mountainous area of Santa Barbara, 240 miles West of the Hondurian capital of Tegucigalpa where he had buried both of them. Ruiz's accomplice Aris Maldonado is also in police custody. Search is on for the other suspects.
Alvarado's body was discovered hours before she was to board her flight for the international event. Her gown for the pageant was ready, said TV personality and employer Salvador Nasrallah. Honduras will not be participating in the Miss World pageant this year, the result of which was to be declared on December 14. Alvarado was an avid volleyball and soccer player who wanted to be a diplomat. She was crowned Miss Honduras in April this year but she never acted as a celebrity. She would dress like any ordinary girl of her age and go about the town. Women in Honduras face a lot of violence, said a senior officer at the Washington office on Latin America. According to UN reports the crime rate against women in Honduras has increased by a whopping 263 per cent between 2005 and 2013. It has the highest number of murders, approximately 95 killings every 1lakh people.