New York Jets got a spectacular win over the Dallas Cowboys in a spectacular match held at the MetLife Stadium on Sunday. Though the jets were trailing by 14 points during the mid session of the match, they made a wonderful comeback and won the match finally by 27-24 points.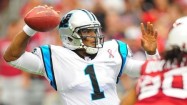 When the match was at the middle, New York Jets were trailing by 24-10 when the entire stadium saw a wonderful one yard run by Felix Jones followed by another 20 yard run by Darrelle Revis. The match ended with a fantastic 50 yard field goal by Nick Folk when only 27 seconds were left to end the match.
It was a third time in the history of the franchise game that a team trailing by 14 points came back into the game and defeated their rivals at the end of the game. Dallas Cowboys started the game well and there was a 74 yard run by Romo which lead the team by some points. At that time, it seemed that it will be a easy win for Dallas Cowboys.