Bristol Palin, daughter of controversial politician Sarah Palin has raised another round of storm in the tea cup. Bristol Palin has gone into the final rounds of the famous TV show "Dancing with the Stars". Her critics are of the opinion that the tea party activists have done some foul playing in the ballot box and all this have been done just to ensure Sarah Palin sails into the finals.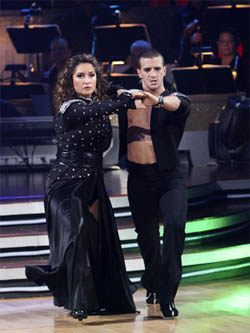 Winning of Bristol Palin into the finals has raised so much public outrage that a Wisconsin man took out his pistol to shoot his own television. People have become angry to the level that as if a Christmas tree is set on fire.
It was the seventh time during the screening of this show in this season that Bristol Palin was voted out by the judges. But every time she has been able to defeat her opponent by getting public votes. "Dancing with the Stars" is the second most popular television show in the USA having a viewership of 20 million.
Critics of Palin are of the view that how come such a bad dancer like her can enter the finals and that too by public vote. It seems that the tea party activists have started a campaign which focused on getting more votes in favor of the 20 plus daughter of Sarah Palin.
As soon as the name of Bristol Palin was announced as one of the finalists, many websites started attacking saying that it must be a nasty game by the Sarah Palin family. These critics are claiming that Bristol Palin may walk away with the winning prize in spite of those "ugly" dancing moves on the floor.