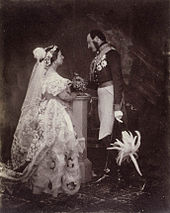 Not many know about the "white wedding" as it is quite untrained to the ear, however for the British it has a nice history associated.
White wedding is a formal or semi-formal wedding style originated in US and Britain and is well known by the colour of the white dress worn at the time of wedding. It became very popular with the Victorian era elites as it was none other than Queen Victoria who wore a white lace dress at her own wedding. However, the term now encapsulates the entire routine that includes a pre-marriage ceremony and a nice reception following the marriage.
Undoubtedly Queen Victoria can only be credited with the inauguration of the white wedding as it was her choice itself to be in complete white while wedding Prince Albert back in 1840. Even the royal brides before Victoria, did not wear such a typical white dress and heavy brocaded gowns embroidered with silver were the automatic choice. Most of such dresses were red in colour especially in Western Europe.
White wedding bears close proximity to traditional wedding and gives clear voice to the rituals too. Both the husband and wife swear vows in front of the marriage official and the ceremony generally includes singing of hymns or reading The Bible. After the ceremony the marriage is officially registered with the couple signing in the wedding register of the United Kingdom. Like normal wedding, here too guests cheer and celebrate the departure of the couple from the church by throwing flower petals and confetti. After this, gradually the white wedding dress started becoming popular in the Western world.