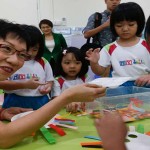 The Baby Bonus cash gift will soon get a hike by $2,000 in Singapore,and will be given between the first 12 and 18 months after the birth of a child. Babies born on or after January 2015 in Singapore will come under the scheme. Apart from the increase in the Baby Bonus cash, the Medisave grant for newborns will also get increased to $1,000 to an overall total of $4,000. With this amount, it will become easy to pay off the medical expenses.
The new measures were recently announced during the National Day Rally, by the Prime Minister Lee Hsien Loong. As per the previous scheme, the first two children of a married couple in Singapore will get $6,000 gift each, the third and fourth children will get $8,000. There is no mention about the baby bonus gifts for fifth or other child. The new scheme says that children will get $8,000 and $ 10,000 respectively as per their birth order.
Married fathers are also eligible for a week long of paternity leave. The rule is readily applicable for the public servants, while private sector employees have to wait a little. Ministers handling population matters are expecting that after the baby bonus acts are revised, people will get encouraged to plan bigger families. Now, that government is also providing the kind of support that people expects, family planning will get bigger and better.